---
June 2020
---
As we crossed the summer solstice this month, our communities, our country, and our world are in the middle of transitions as well. 
While we all navigate the challenges of these strange and troubling times, we wanted to let you know about a new collaborative opportunity to support those most affected by recent events in our community: the Local Emergency Assistance Farm Fund (LEAFF) was recently launched by The Good Acre, RTC, and other community partners to help farmers, particularly BIPOC and emerging farmers, whose businesses have been impacted by COVID-19.
Thanks to donations from LEAFF partners, food will be purchased at fair market value from farmers and donated to food shelves and hunger relief organizations. We are committed to providing purchased produce to organizations supporting those facing hunger and food insecurity, whether it's people impacted by COVID-19, communities rebuilding from protests following the murder of George Floyd, or communities that have been oppressed throughout our cities' history. Continue below for a number of other ways our programs are making the transition into summer.
—the team at Renewing the Countryside
Farmland Access
Earlier this month, the state of Iowa passed a bill with great bipartisan support that allows for small farms under 40 acres—a size most often worked by younger farmers growing vegetables and fruits for families in their community—to be considered farms in the eyes of counties and the state, and open agritourism and educational opportunities for them as well.
One of the lead proponents and authors of the bill was our own staff member Kate Edwards, a farmer feeding 200 families through her small farm business and a navigator in our Farmland Access program to support beginning farmers in finding secure land.
According to Kate, "The work of being a navigator was instrumental in this bill passing. I co-lead the efforts along with Carmen Black from Pesticide Action Network and we worked with farmers from across Iowa to help make this pass through the vehicle of the Iowa Chapter of the National Young Farmers Coalition, and the strong work of Molly Schintler, the president of Eastern Iowa Young Farmers Coalition. Many of the farmers who were part of this network were clients in the land access work because they had a direct stake in this bill passing.
"In fact, in one of our early meetings with two state senators as I looked around the table in the few minutes leading up to the meeting, I realized I had met with every single farmer around the table with land access through the Renewing the Countryside Land Access Hub work. Land Access was the underpinnings of the need for this legislation."
What began as local county activism grew into statewide political work because of the collaboration and shared challenges local food farmers were facing. At the core of this work was collaboration, information-sharing, a drive to make sustainable livelihoods possible, and community connectedness, all threads that connect the great work this group of farmers have accomplished in Iowa with the mission and vision of Renewing the Countryside.  
---
Artisan Grains
Sandy and Jay Boss Febbo pose with their first delivery of malted grain grown by Doubting Thomas Farms and malted by Vertical Malt. 
Photo: Noreen Thomas
Bang Brewing in St. Paul, MN, was the first brewery member of the Artisan Grain Collaborative, and part of RTC's work to engage Minnesota farms and businesses along the grain value chain. Bang co-owner and brewer Sandy Boss Febbo says, "Ingredient sourcing is absolutely central to our mission of sustainability. The goal with our sourcing is to foster environmental stewardship and champion farmworker health and rights."
When Sandy and her husband Jay started brewing in 2013, it was difficult to dictate sourcing. Now, seven years in, they're a long way from relying on large brokers for raw grain and malt. Their first commitment to environmental sustainability was to use all organic ingredients in their beers. Beyond a commitment to organic agriculture, they always intended to have personal relationships with the farmers they purchase grain from. Both graduates of the University of Minnesota, they felt it was fitting that the Forever Green Initiative provided the first Minnesota grown grain they brewed with—Kernza®. Bang still features organically-grown Kernza in their beers, now from A-Frame Farm in Madison, MN. In the past year, Bang has also begun working with Doubting Thomas Farms in Moorehead, MN who partners with Crookston-based Vertical Malt to process their organically-grown barley and oats.

Of course, 2020 has been a challenging year. Bang closed the taproom of their award-winning pre-fab 'grain bin' facility mid-March and have since increased distribution of returnable 750-mL bottles to retail partners and bars and restaurants offering curbside pick up. These pivots have kept them brewing, albeit at a slower pace and missing their taproom staff.
Sandy and Jay say they're committed to their beautifully diverse and strong community, and are adding their voices to demand justice for George Floyd."While our primary focus is on farming, food systems, and creating a business environment for and of our community where all are welcome - we have long been advocates for progressive change in many realms and will be looking for opportunities to continue to contribute with intent, focus, emphasis and purpose."
[Excerpt from the AGC newsletter The Crumb, June 7th edition]
---
FEAST! Local Foods Network
RTC was excited to launch the FEAST! Local Foods Magazine two years ago because we wanted to help tell more of the story than we could accomplish during our annual Marketplace event. We wanted to call out leaders and visionaries—inspiring stories as well as challenges like accessing farmland, finding financing, and the many ways farmers and food businesses need to be creative and driven to reach customers.
Volumes one and two of the magazine can be read online, and volume three is currently in the works—with a plan to release a dynamic online version when the print copies come out mid-October. Check out the rate card if you can help us make the magazine happen by placing an ad, or send questions to [email protected]. Early bird deadline: July 15.
In this month's FEAST! Scoop newsletter we also shared news about a farm to table restaurant in La Crosse, WI called Uptowne Café, and the 40 Acres & a Mule Project crowdfunding effort started by its owner, Adrian Lipscombe, a Black woman looking to buy land to share knowledge about Black foodways.  
Read online: FEAST! Local Foods Scoop e-newsletter 
---
Farm to School & Early Care
This month, the Minnesota Department of Agriculture has made Rapid Response Funding available through mini-grants to respond to the disruptions COVID-19 has caused in Farm to School markets via two categories: one for schools and one for farmers/vendors. Applications will be accepted on a rolling basis through mid-August.
AGRI

 

Farm to School Rapid Response for Schools

 

– Grants are intended for

 

school

 

districts to begin, diversify, and expand purchasing from Minnesota producers during the COVID-19 pandemic, primarily during the summer and fall 2020.

 

School

 

districts may apply for $1,000 to $5,000 and there is no match required. This could include, for example:

Beginning: purchasing Minnesota apples for the first time to include in grab-and-go meals or home deliveries
Diversifying: adding new or additional Minnesota farmers or introducing a new product to your local sourcing
Increasing: increasing the dollar value of a Minnesota product to use in school meals
AGRI

 

Farm to School Rapid Response for Food Vendors

 

– Grants are intended to support equipment purchases for food vendors that will help them to meet the product needs of schools during the COVID-19 pandemic. Agricultural producers (farmers, ranchers, agricultural cooperatives), restaurants, processors, food hubs, food distributors, and food service management companies are eligible to apply. Food vendors may apply for $1,000 to $5,000 and there is a 1:1 match requirement. Examples include packaging, transportation, and/or minimal processing equipment. 
"During this period of disruption caused by the COVID-19 pandemic, we're looking for ways to support farmers and invest in schools differently," Agriculture Commissioner Thom Petersen said. "These mini-grants help preserve and expand markets that provide students with locally grown, healthy, nutritional food options."
School closures due to COVID-19 have led to many changes for food service departments and the farmers who sell into wholesale markets, while also highlighting the value of strong local food connections. We know that it is a challenging time for all parties, and hope that this support allows for continued collaboration through this new landscape.
For free assistance with your application, please contact Grace on our staff at RTC at grace [at] rtcinfo [dot] org.
---
Women in Ag
"Would you like a slice of cake?" 
For most of us, the offer of a baked good treat brings a smile and typically an enthusiastic, "yes please." Or how about a slice of still warm-from-the-oven sourdough bread? Or a fresh zucchini raisin muffin? For me, my eyes can spot a bakery from a football field away while traveling and I'll always gladly detour. 
However, increasingly for women today, baked goods rise up into something more. Yes, our cookies taste yummy; however, women are leading the way for that goody to also be a catalyst for action and change. From a statement of support for local grains and ingredients to a path to entrepreneurship and bringing people together to fight racism and activate for social change, women bakers—both professional and homespun—are collaboratively whisking together ways to think beyond just a tasty treat.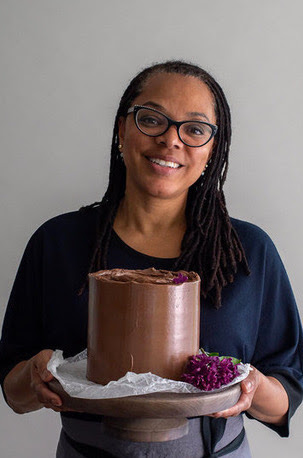 As we've seen during our current COVID-19 pandemic, women in sustainable agriculture and already championing fresh, seasonal food continue to creatively reset and reinvent for a hopefully more land stewardship-focused new normal. From pivoting to new ways to engage community to initiating open, respectful dialogue with neighbors, together we can cooperatively join together, all fueled even better if there's blueberry pie involved.
Baking can therefore be your on-ramp to activism. Read on for ideas from the field (and recipes) for ways to think beyond your mixing bowl and channel those cookies together into something bigger.
1. Honor Your Story
"For me, a cake is much more than just a dessert.  It's a way to tell a story," shares Monica O'Connell, owner of Curtis and Cake, a small-batch, independent bakery in southern Wisconsin inspired by the tastes of the American South and the women who created them. "I see myself and my cakes as part of a longer tradition, that I'm part of a history of Black women's wisdom in the kitchen."
O'Connell draws inspiration from women bakers before her, including Edna Lewis, the trailblazing granddaughter of slaves. Lewis authored multiple cookbooks with a mission to ensure the history and continuation of classic Southern dishes using fresh ingredients, and to bring these recipes to new generations like O'Connell. 
Photo: Sunny Frantz
---
Renewing the Countryside is a non-profit organization that strengthens rural areas and small towns by championing and supporting farmers, artists, entrepreneurs, educators, activists, and others who are revitalizing the countryside through innovative endeavors.
We build awareness and support for these initiatives by collecting and sharing stories of rural renewal, providing practical assistance and networking opportunities for those working to improve rural America, and fostering connections between urban and rural people.


---
Do you like this post?